Jobs
---
We are constantly seeking candidates with a strong interest in performing cutting edge research in a very active and exciting research area.
Setup a helpless robot [HiWi]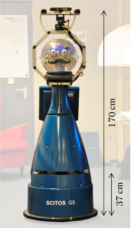 Meet Karl, the robot. Armless as he is, he needs help from humans to open doors and use elevators to fulfill his tasks as an errand boy. To look for potential helpers in a reasonable way is the goal of the BMBF project FRAME (http://www.frame-projekt.de/).
Your task as a HiWi would be to help setting up certain components on the robot, especially regarding detection and tracking of persons, but also other stuff, like controlling a projector to help Karl express himself.

What you need: C++, Python, ROS & a <3 for helpless robots ;)

Contact:
M.Sc. Stefan Breuers
3D Semantic Segmentation [HiWi]
3D semantic segmentation is the task of estimating the semantic label of each point in a given point cloud. You will get hands-on experience with deep learning on a very new and exciting field in computer vision. (Possibility of extension to Bachelor/Master Thesis.)
Preferred qualifications:
Programming experience in Python
Deep learning experience
TensorFlow
Only for student enrolled at RWTH Aachen University.
To apply please send me an email including your current transcript from the university and a short CV.
Contact:
M.Sc. Francis Engelmann
Visual Inertial Odometry [HiWi]
Visual Inertial Odometry is the task of estimating the position and orientation of a robot by analyzing stereo camera images and inertial measurements (from a gyroscope and accelerometer). Here your job will be to take care of our currently existing setup, record sequences in the wild and extend the existing code base to meet new challenges that we encounter during your work. (Possibility of extension to Bachelor/Master Thesis.)
Preferred qualifications:
Programming experience in C/C++ or Python
ROS (Robot Operating System) experience is a plus
Only for student currently enrolled at RWTH Aachen
(Just drop me a short informal email including your current transcript from the university and we proceed from there.)
Contact:
M.Sc. Francis Engelmann